A note from Mrs. Muggli: On Monday, Harmony went to Chase County (Imperial) to compete at the Nebraska Choral Directors Association Show Choir Competition. Points are awarded in various categories and point totals for Gold Silver etc, vary by class. We are class B for this competition but we actually earned enough points to also get a gold in class A as well!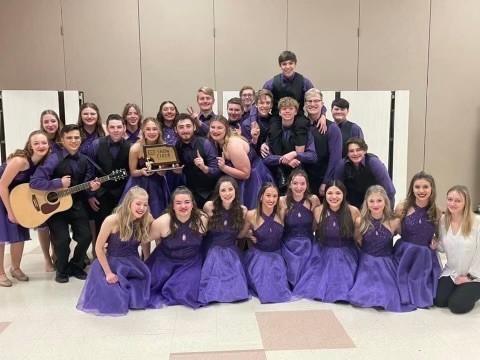 A little note from swim coach Will Morgan: This Past weekend the Seacats Participated in their last regular season meet. In the GNAC conference meet in Hastings, the boys got 5th place and the girls got 4th place out of 5 teams. Some of our top swims included: The boys' Medley Relay placing 2nd and obtaining a Secondary state time. Tj Ricky placing 4th in the 200 Free and 2nd in the 50 Free. Dien Nguyen placing 3rd in the 200 IM and 4th in the 100 Free Patricia Woolsey placing 3rd in the 50 free and 1st in the 500 Free Wisley Mooc placing 3rd in the 100 Back and 2nd in the 100 Fly Aspen Cheek tying for 4th in the 100 fly Megan Kicken placing 5th in the 100 back Maddux Janecek placing 2nd in the 100 breast and our Boys 200 Free Relay placing 3rd. Overall we had a great conference meet to end the season, where everyone was successful in gaining PRs and showcasing all of their improvement gained throughout the season. Tuesday night after all nominations were sent into that state, we got confirmation that our boys 200 Medley relay qualified for state and is seeded 23rd going into prelims. We also got confirmation that Patricia Woolsey made it into the 500 Free also seeded at 23rd. Thanks for all your support throughout the season and we are looking forward to competing at the state meet in Lincoln on the 25th.

RESULTS FROM GERING SPEECH INVITE Duet Acting: 8th Place--Thomas Connot and Gavin De Los Santos 5th Place--Emily Coakley and Haylee Betzold 4th Place--Cassidy Flores and Sammy Martinez Entertainment Speaking: 4th Place--Emily Krzyzanowski 2nd Place--Sarah Connot 1st Place--Abby Prohs Extemporaneous Speaking: 11th Place--Lily Kadolph 5th Place--Natalie Peterson 2nd Place--Guri Hayer Informative Speaking: 6th Place--Cassidy Flores 5th Place--Hannah Boyd 2nd Place--Ella Thomas 1st Place--Maddie Seiler OID: 3rd Place--Abby Prohs, Autumn Elsen, Hannah Boyd, Evan Fuller, and Thomas Connot 1st Place--Wyatt Soule, Abby Brady, and Regan Fuller Humorous Prose: 11th Place--Thomas Connot 4th Place--Hannah Boyd 1st Place--Autumn Elsen Poetry: 10th Place--Ryli Robertus 4th Place--Haylee Betzold 3rd Place--Regan Fuller 2nd Place--Kaitlyn Peterson 1st Place--Sammy Martinez Serious Prose: 11th Place--Emily Coakley 7th Place--Abby Brady 2nd Place--Wyatt Soule 1st Place--Kaitlyn Peterson Persuasive Speaking: 8th Place--Natalie Peterson 5th Place--Bella Longoria 4th Place--Evan Fuller 3rd Place--Kaitlyn Peterson 2nd Place--Jada Schlothauer 1st Place--Mason Barrett

The Wrestlers that qualified for state will be leaving at 7:00 a.m. tomorrow from the high school. All are welcome to help give them a big send off.

Congratulations to the following wrestlers who qualified for state this weekend: Ashton Dane Isaiah Murillo AJ Stone Keenan Allen Jacob Awiszus Taydon Gorsuch Collin Schwartzkopf Sam Rocheleau
February's newsletter is jam packed with information you will want to check out. Check it out:
https://bit.ly/3gF5nCs

Results from last night's Basketball games: Gering 9th Boys 45 vs Torrington 28 Gering 10th Boys 49 vs Scottsbluff 54

Activity results from the weekend: Swimming - -Patricia Woosley in the 50 freestyle taking second and obtaining her second secondary state time. -Megan Kicken taking first in the 200 IM -Wisley Mooc coming in first for the 100 Butterfly - Dien Nguyen getting second in the 500 Freestyle -Girls and Boys both placing second in the 200 Free relay - Maddux Janecek getting first in the Breaststroke Basketball - Girls Varsity 51 vs Chadron 41 Girls Varsity 44 vs Scottsbluff 70 Boys Varsity 61 vs Chadron 60 Boys Varsity 67 vs Scottsbluff 84 Girls JV 44 vs Chadron 50 Girls JV 25 vs Scottsbluff 48 Boys JV 36 vs Chadron 39 Boys JV 35 vs Scottsbluff 54 Speech - Thomas Connot and Gavin De Los Santos, Duet Acting, 5th Emily Krzyzanowski, Entertainment Speaking, 4th Abby Prohs, Entertainment Speaking, 1st Natalie Peterson, Extemporaneous Speaking, 6th Guri Hayer, Extemporaneous Speaking, 2nd Autumn Elsen, Humorous Prose, 3rd Maddie Seiler, Informative Speaking, 5th Ella Thomas, Informative Speaking, 3rd Hannah Boyd, Informative Speaking, 2nd Jada Schlothauer, Persuasive Speaking, 6th Kaitlyn Peterson, Persuasive Speaking, 5th Evan Fuller, Persuasive Speaking, 2nd Regan Fuller, Poetry, 5th Sammy Martinez, Poetry, 3rd Kaitlyn Peterson, Poetry, 2nd Abby Brady, Serious Prose, 6th Wyatt Soule, Serious Prose, 3rd Kaitlyn Peterson, Serious Prose, 1st

The results from yesterday's 9th Boys BB against Sidney Gering 59 Sidney 58

January's Newsletter is full of important information you will not want to miss. Check it out:
https://bit.ly/33o2FxT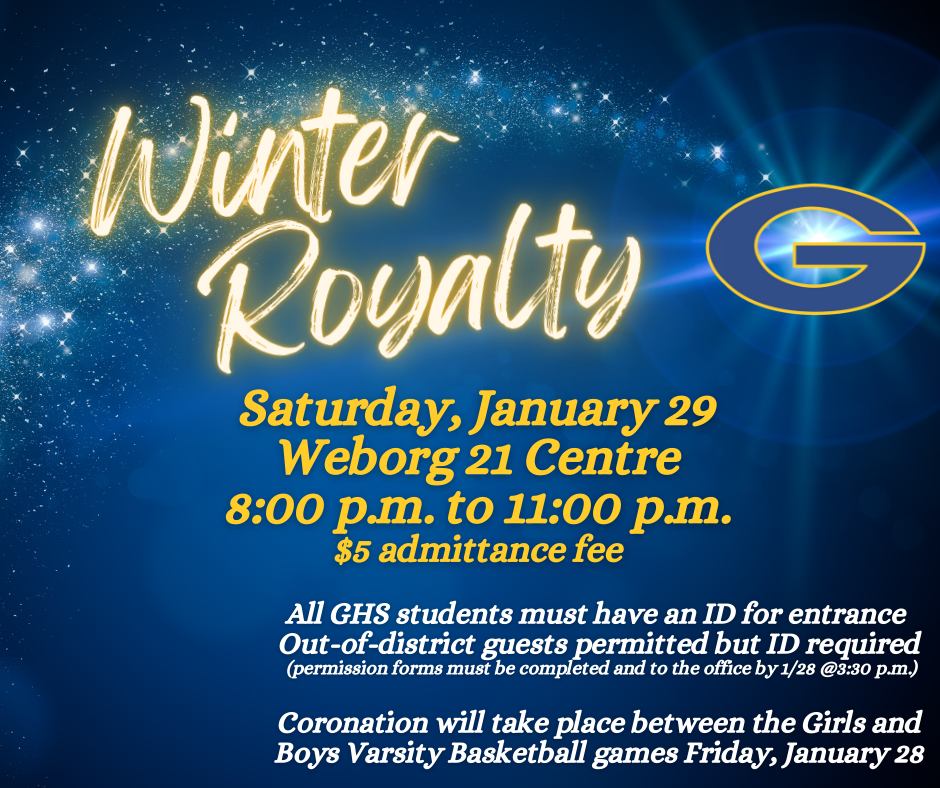 Don't miss out on the Oregon Trail Honor Band that will be live streamed tonight at 5:00 pm.
https://striv.tv/channel/bridgeport/
We have five GHS students participating in this wonderful concert. Results from the weekend: Basketball 9th Boys 47 vs Newcastle 16 JV Boys 57 vs Newcastle 27 Varsity Boys 63 vs Newcastle 57 JV Girls 58 vs Newcastle 31 Varsity Girls 41 vs Newcastle 61 Speech Holiday Scramble results: Novice Entertainment Speaking Elijah Reza, 4th Angela Self, 3rd Lily Kadolph, 2nd Emily Krzyzanowski, 1st Novice Extemporaneous Speaking Lily Kadolph, 3rd Sam Martindale, 2nd Natalie Peterson, 1st Novice Serious Prose CeCe Reza, 6th Allison Ossian, 3rd Emily Coakley, 1st Novice Persuasive Speaking Chloe Hesse, 6th Gavin De Los Santos, 5th Mason Barrett, 3rd Natalie Peterson, 2nd Bella Longoria, 1st Varsity Duet Acting Sadie Davis and Vic Christopherson, 6th Varsity Entertainment Speaking Abby Prohs, 3rd Jada Schlothauer, 2nd Sarah Connot, 1st Varsity Extemporaneous Speaking Guri Hayer, 1st Varsity Informative Speaking Trace Leetch, 5th Ella Thomas, 4th Maddie Seiler, 3rd Hannah Boyd, 2nd Cassidy Flores, 1st Varsity OID Regan Fuller, Wyatt Soule, and Abby Brady, 1st Varsity Humorous Prose Autumn Elsen, 5th Thomas Connot, 4th Hannah Boyd 1st Varsity Poetry Haylee Betzold, 5th Regan Fuller, 4th Sammy Martinez, 3rd Kaitlyn Peterson, 2nd Varsity Serious Prose Wyatt Soule, 5th Kaitlyn Peterson, 4th Abby Brady, 3rd Varsity Persuasive Speaking Jada Schlothauer, 3rd Evan Fuller, 2nd Kaitlyn Peterson, 1st Varsity Wrestling @ High Plains Community: 106 - Ashton Dane 1st 113 - Jordan Shirley 2nd 120 - Jackson Harriger 16th 126 - Raul Ayala 12th 138 - AJ Stone 6th 145 - Brasen Hakert 16th 152 - Keenan Allen 4th 160 - Carmelo Timblin 20th 182 - Jacob Awiszus 1st 195 - Taydon Gorsuch 5th 220 - Collin Schwartzkopf 1st 285 - Sam Rocheleau 4th JV Wrestling @ Garden County: 120 - Aiden Narvais 4th 126 - Joseph Barraza 4th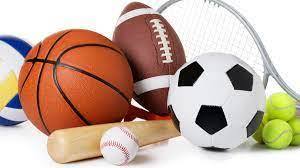 Results from yesterday's sporting events: Freshman basketball vs Mitchell Girls - Gering 13 Mitchell 44 Boys - Gering 43 Mitchell 41 Wrestling vs Ogallala Sam Rocheleau 285 over Blake Messervy (5:45) Ashton Dane 106 over Ogallala forfeit Isaiah Murillo 113 over Ogallala forfeit Jackson Harriger 126 fell to Logan Stephens (1:34) Joseph Barraza 132 fell to Cole Stokey (0:55) AJ Stone 138 over Maxwell Mueller (1:43) Brasen Hakert 145 over Caiden Castillo (3:11) Keenan Allen 152 fell to Cameron Zink (TF 20-2 4:25) Carmelo Timblin 160 fell to Ethan Skalsky (3:04) Landon Holecheck 170 over Gering forfeit Jacob Awiszus 182 over Jobidiiah Brunkhorst (2:56) Taydon Gorsuch 195 over Ryan Oatts (1:15) Collin Schwartzkopf over Ogallala forfeit Mitch Culek JV 106 over Barrett Renfro (Dec 10-3) Kendrick Shifflett JV 126 over Kaode Brewer (1:48) Gering Wrestlers won 48-29!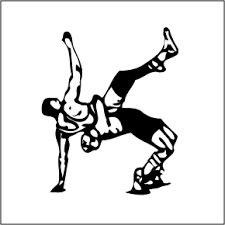 Results from yesterday's games: Freshman Basketball Girls - Gering 21 Sidney 54 Boys - Gering 36 Sidney 41

After advancing to the final round yesterday, Gering Blue beat Sidney to claim the 2021 district title! The state tournament will be on Zoom this year and will be held January 10-13, most likely in a GHS conference room :) Gering Gold notched a win as well, beating Chadron in round 1 but losing to Sidney in round 2. Gering Blue beat Scottsbluff to move on to finals. District One Act from this weekend as well! 1. Valentine 2. Gothenburg 3. Chadron 4. Aurora 5. McCook 6. Gering 7. Sidney 8. Alliance Outstanding Performance Wyatt Soule Reagan Fuller Annabelle Powe Victoria Christophersen Sadie Davis Chloee Randall Emily Coakley Melena Cota Jasmyn Sinner Evan Fuller Haylee Betzold
Happy December, please take a minute to read Gering High School's December newsletter:
https://bit.ly/31CPKrc
. Wishing you all a Happy Holiday Season!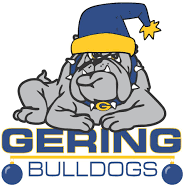 We want to send out a huge thank you to TJ Rickey, Harley Kreiling, and Gavin Baltz (not pictured) for making a new candy stand for the HS Concessions!!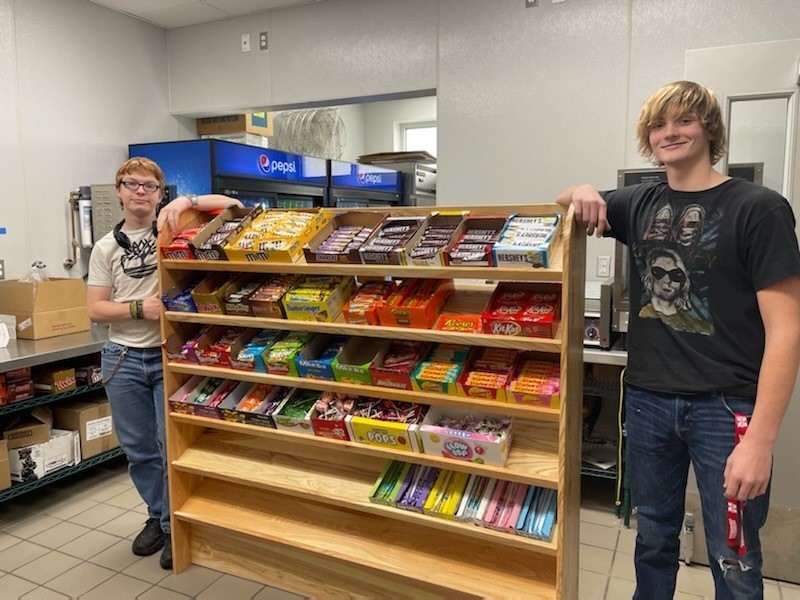 Congratulations to the following girls for being recognized in the all-state volleyball teams. Lincoln Journal All-State Honorable Mention: Cami Newman, Alex Gonzalez-Orozco, Maddie Ray Omaha World Herald All-Class Honorable Mention: Cami Newman, Alex Gonzalez-Orozco, Maddie Ray, Sydnee Winkler, and Carleigh Pszanka Scores from the weekend! Western Conference Basketball: Boys Varsity - Gering placed 5th Girls Varsity - Gering placed 5th Wrestling @ Cozad Invite: Varsity placed 2nd JV individual placings: Isaiah Murillo 113 - 1st Jackson Howard 126 - 2nd Joseph Barraza 138 - 2nd Jose Barrios 170 - 4th Javen Dorador 285 - 4th Varsity individual placings: Ashton Dane 106 - 2nd Jordan Shirley 113 - 1st AJ Stone 138 - 3rd Keenan Allen 152 - 5th Jacob Awiszus 182 - 1st Taydon Gorsuch 195 - 3rd Collin Schwartzkopf 220 - 1st Great weekend to be a Bulldog!

Gering HS had 2 teams compete in UNL Math Day today. The competitive team was made up of Guri Hayer, Mason Barrett, Savannah Baird, Alison Bradford, and Wyatt Soule. Their results: Beat Norris 4-1 Beat Pius 4-1 Lost to Millard North 0-11 Beat Broken Bow 4-2 Tie with Elkhorn North 4-4 The Recreation team was made up of Zepheniah Henderson, Gage Newberry, Sam Martindale, Kane Mathson, Regan Fuller, Victoria Christophersen, and Natalie Peterson. Their results: Beat Wahoo 4-1 Beat Sterling 4-3 Beat Mercy 3-2 Tie with Aquinas 2-2 Lost to Lincoln East 0-6 Kids competed well and represented our school very well!