January's Newsletter is full of important information you will not want to miss. Check it out:
https://bit.ly/33o2FxT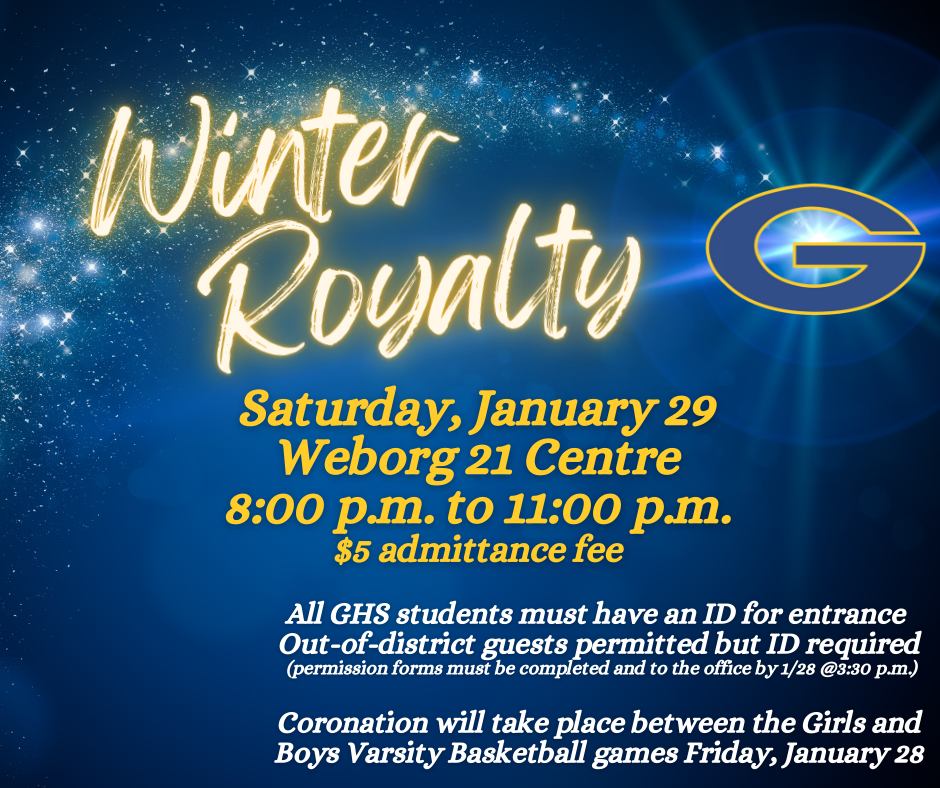 Don't miss out on the Oregon Trail Honor Band that will be live streamed tonight at 5:00 pm.
https://striv.tv/channel/bridgeport/
We have five GHS students participating in this wonderful concert. Results from the weekend: Basketball 9th Boys 47 vs Newcastle 16 JV Boys 57 vs Newcastle 27 Varsity Boys 63 vs Newcastle 57 JV Girls 58 vs Newcastle 31 Varsity Girls 41 vs Newcastle 61 Speech Holiday Scramble results: Novice Entertainment Speaking Elijah Reza, 4th Angela Self, 3rd Lily Kadolph, 2nd Emily Krzyzanowski, 1st Novice Extemporaneous Speaking Lily Kadolph, 3rd Sam Martindale, 2nd Natalie Peterson, 1st Novice Serious Prose CeCe Reza, 6th Allison Ossian, 3rd Emily Coakley, 1st Novice Persuasive Speaking Chloe Hesse, 6th Gavin De Los Santos, 5th Mason Barrett, 3rd Natalie Peterson, 2nd Bella Longoria, 1st Varsity Duet Acting Sadie Davis and Vic Christopherson, 6th Varsity Entertainment Speaking Abby Prohs, 3rd Jada Schlothauer, 2nd Sarah Connot, 1st Varsity Extemporaneous Speaking Guri Hayer, 1st Varsity Informative Speaking Trace Leetch, 5th Ella Thomas, 4th Maddie Seiler, 3rd Hannah Boyd, 2nd Cassidy Flores, 1st Varsity OID Regan Fuller, Wyatt Soule, and Abby Brady, 1st Varsity Humorous Prose Autumn Elsen, 5th Thomas Connot, 4th Hannah Boyd 1st Varsity Poetry Haylee Betzold, 5th Regan Fuller, 4th Sammy Martinez, 3rd Kaitlyn Peterson, 2nd Varsity Serious Prose Wyatt Soule, 5th Kaitlyn Peterson, 4th Abby Brady, 3rd Varsity Persuasive Speaking Jada Schlothauer, 3rd Evan Fuller, 2nd Kaitlyn Peterson, 1st Varsity Wrestling @ High Plains Community: 106 - Ashton Dane 1st 113 - Jordan Shirley 2nd 120 - Jackson Harriger 16th 126 - Raul Ayala 12th 138 - AJ Stone 6th 145 - Brasen Hakert 16th 152 - Keenan Allen 4th 160 - Carmelo Timblin 20th 182 - Jacob Awiszus 1st 195 - Taydon Gorsuch 5th 220 - Collin Schwartzkopf 1st 285 - Sam Rocheleau 4th JV Wrestling @ Garden County: 120 - Aiden Narvais 4th 126 - Joseph Barraza 4th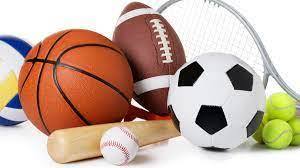 Results from yesterday's sporting events: Freshman basketball vs Mitchell Girls - Gering 13 Mitchell 44 Boys - Gering 43 Mitchell 41 Wrestling vs Ogallala Sam Rocheleau 285 over Blake Messervy (5:45) Ashton Dane 106 over Ogallala forfeit Isaiah Murillo 113 over Ogallala forfeit Jackson Harriger 126 fell to Logan Stephens (1:34) Joseph Barraza 132 fell to Cole Stokey (0:55) AJ Stone 138 over Maxwell Mueller (1:43) Brasen Hakert 145 over Caiden Castillo (3:11) Keenan Allen 152 fell to Cameron Zink (TF 20-2 4:25) Carmelo Timblin 160 fell to Ethan Skalsky (3:04) Landon Holecheck 170 over Gering forfeit Jacob Awiszus 182 over Jobidiiah Brunkhorst (2:56) Taydon Gorsuch 195 over Ryan Oatts (1:15) Collin Schwartzkopf over Ogallala forfeit Mitch Culek JV 106 over Barrett Renfro (Dec 10-3) Kendrick Shifflett JV 126 over Kaode Brewer (1:48) Gering Wrestlers won 48-29!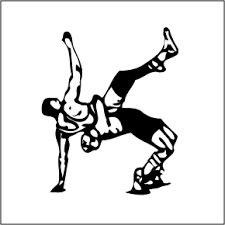 Results from yesterday's games: Freshman Basketball Girls - Gering 21 Sidney 54 Boys - Gering 36 Sidney 41

After advancing to the final round yesterday, Gering Blue beat Sidney to claim the 2021 district title! The state tournament will be on Zoom this year and will be held January 10-13, most likely in a GHS conference room :) Gering Gold notched a win as well, beating Chadron in round 1 but losing to Sidney in round 2. Gering Blue beat Scottsbluff to move on to finals. District One Act from this weekend as well! 1. Valentine 2. Gothenburg 3. Chadron 4. Aurora 5. McCook 6. Gering 7. Sidney 8. Alliance Outstanding Performance Wyatt Soule Reagan Fuller Annabelle Powe Victoria Christophersen Sadie Davis Chloee Randall Emily Coakley Melena Cota Jasmyn Sinner Evan Fuller Haylee Betzold
Happy December, please take a minute to read Gering High School's December newsletter:
https://bit.ly/31CPKrc
. Wishing you all a Happy Holiday Season!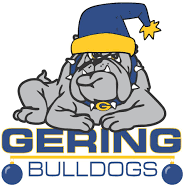 We want to send out a huge thank you to TJ Rickey, Harley Kreiling, and Gavin Baltz (not pictured) for making a new candy stand for the HS Concessions!!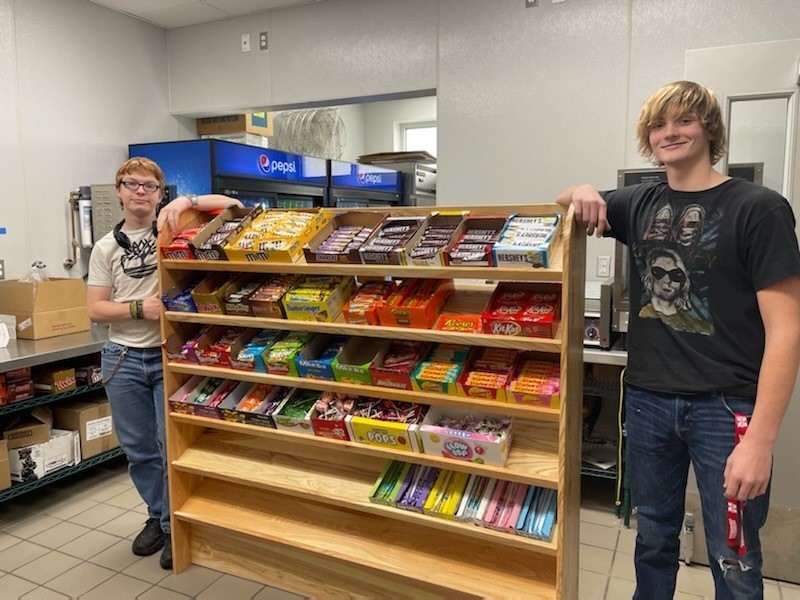 Congratulations to the following girls for being recognized in the all-state volleyball teams. Lincoln Journal All-State Honorable Mention: Cami Newman, Alex Gonzalez-Orozco, Maddie Ray Omaha World Herald All-Class Honorable Mention: Cami Newman, Alex Gonzalez-Orozco, Maddie Ray, Sydnee Winkler, and Carleigh Pszanka Scores from the weekend! Western Conference Basketball: Boys Varsity - Gering placed 5th Girls Varsity - Gering placed 5th Wrestling @ Cozad Invite: Varsity placed 2nd JV individual placings: Isaiah Murillo 113 - 1st Jackson Howard 126 - 2nd Joseph Barraza 138 - 2nd Jose Barrios 170 - 4th Javen Dorador 285 - 4th Varsity individual placings: Ashton Dane 106 - 2nd Jordan Shirley 113 - 1st AJ Stone 138 - 3rd Keenan Allen 152 - 5th Jacob Awiszus 182 - 1st Taydon Gorsuch 195 - 3rd Collin Schwartzkopf 220 - 1st Great weekend to be a Bulldog!

Gering HS had 2 teams compete in UNL Math Day today. The competitive team was made up of Guri Hayer, Mason Barrett, Savannah Baird, Alison Bradford, and Wyatt Soule. Their results: Beat Norris 4-1 Beat Pius 4-1 Lost to Millard North 0-11 Beat Broken Bow 4-2 Tie with Elkhorn North 4-4 The Recreation team was made up of Zepheniah Henderson, Gage Newberry, Sam Martindale, Kane Mathson, Regan Fuller, Victoria Christophersen, and Natalie Peterson. Their results: Beat Wahoo 4-1 Beat Sterling 4-3 Beat Mercy 3-2 Tie with Aquinas 2-2 Lost to Lincoln East 0-6 Kids competed well and represented our school very well!

Below is information regarding livestreams and radio broadcasts for the Western Conference tournament this week. Live Stream/Radio Thursday, Mitchell will be broadcasting on Striv - striv.tv/channel/mitchell Scottsbluff and Gering teams will be on KNEB radio on Thursday Gering Live Stream link - All games at GHS Gym
https://www.youtube.com/channel/UCymtjItbM3ljYU2gziYt0nA
Scottsbluff Live Stream link - All games at SHS Gym
https://www.youtube.com/channel/UCtLzLFgx4oci7lDS4yIwBSw
? WNCC - Friday and Saturday will be on Scottsbluff Striv striv.tv/channel/scottsbluff

Our One Act team will be competing in Districts this Saturday at Gothenburg. They will be performing at 2:15 CT. While the actual plays will not be livestreamed the awards ceremony will be. The awards ceremony is scheduled to start at 4:45 CT(3:45 ET). The awards ceremony will be livestreamed on the following website:
https://www.youtube.com/c/GothenburgActivities

Gering is hosting a One-Act festival tomorrow in our high school auditorium. Below is the schedule of performances. Admission is only $5 to watch all of the performances. 10:00 - Gering 11:00 - Banner County 12:30 - Crawford 1:30 - Leyton 2:30 - Chadron

Interested in attending a wonderful dinner theater locally? Our High School One Act group will be presenting a dinner theater for you on Tuesday, November 23 beginning at 6:00 p.m. with the performance to follow at 7:00. You can purchase your tickets from any One Act performer, or directly from the High School. Tickets are $15.00 in advance for the meal or you can buy your performance only ticket at the door.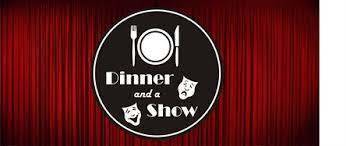 Jacob Awiszus will be signing today to wrestle for the University of Nebraska at Kearney. The signing will take place at the Hampton Inn at 5:00 p.m.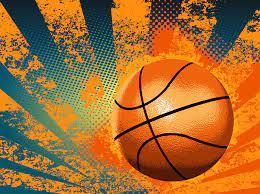 November Newsletter...Check out what is going on this month:
https://bit.ly/2Y9AxfE
Winter Sports Updates, Ag Feature, & Important Dates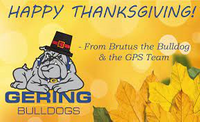 Sophomores will take the PreACT on 11/3 this Wednesday, please drop students off at the Civic Center by 7:30 am. If students need a ride a bus will be at GHS at 7:15 am to transport students to and from the Civic Center. Sophomores will be dismissed for the remainder of the day after testing has concluded.

Jacob Awiszus will be signing to wrestle for the University of Nebraska/Kearney. The signing will take place on November 10 at 5:00 p.m. at the Hampton Inn.