Preschool & Kindergarten Enrollment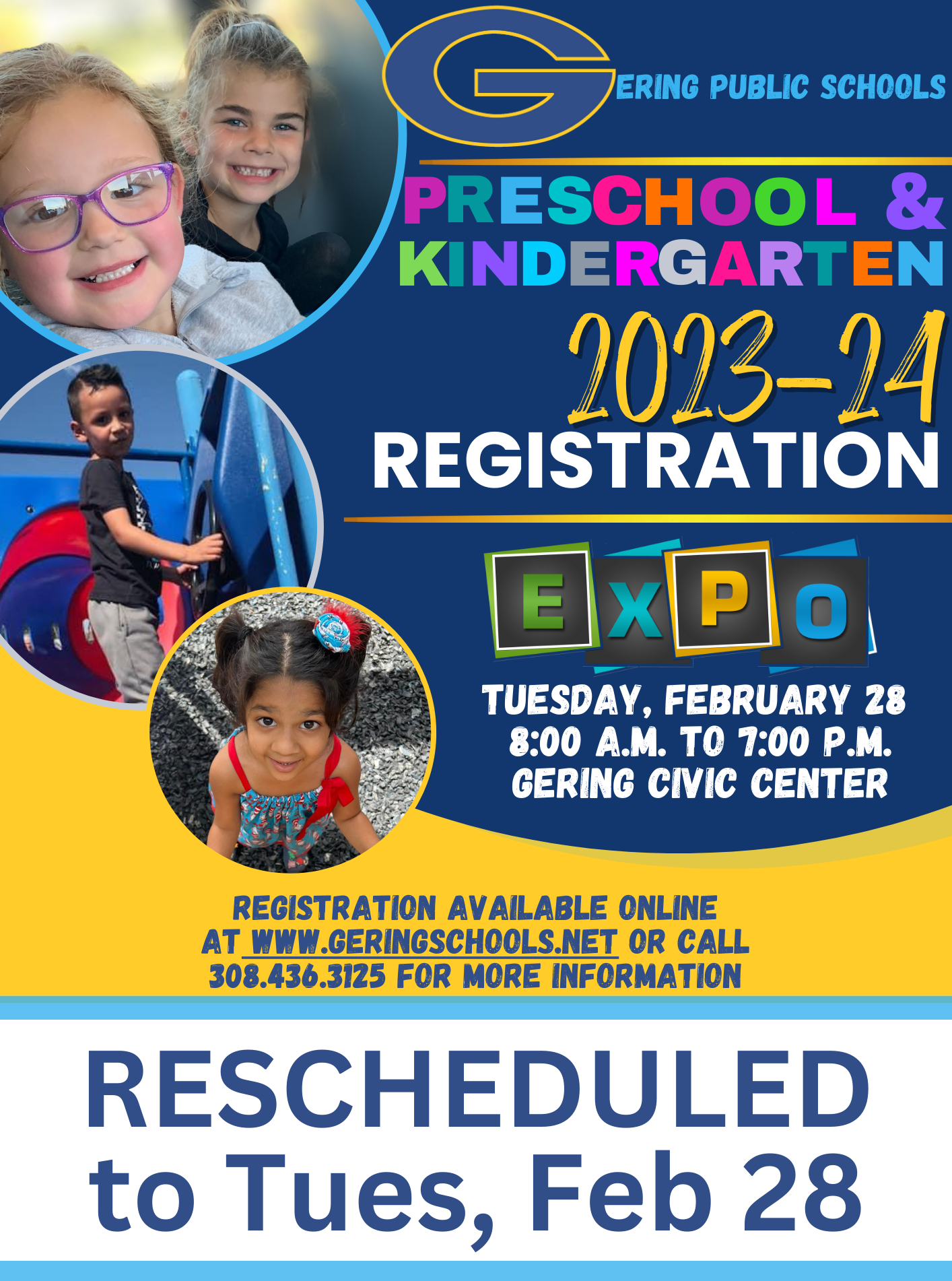 1.) Online registration available now by clicking here
2.) Join us for the 2023.24 Preschool and Kindergarten Registration EXPO on Tuesday, February 28, 2023 from 8am to 7pm at the Gering Civic Center. This is a great opportunity to meet our staff, ask questions, bring in required documents, and explore opportunities for after-school care in the community. Brutus the Bulldog will making several special appearances. All families registering will receive a welcome gift pack!
Geil Elementary | 1600 D Street, Gering | 308.436.2545
Lincoln Elementary | 1725 13th Street, Gering | 308.436.2350
Northfield Elementary | 1900 Flaten Avenue, Gering | 308.436.5555
Paper enrollment packets are available at our District Office at 1519 10th Street in Gering.
A Message From Our Kindergarteners
Additional information regarding early admission testing for students who will reach the age of five between August 1 and October 15 may be found by emailing communication@geringschools.net or calling 308.436.3125.
Key Registration Information
Our district is committed to providing excellent educational opportunities for all students in each of the three elementary schools. It is our hope that attending school in Gering will be rewarding and a fulfilling experience for you and your child!
A student's educational success is directly related to a small teacher-student class ratio. To that end, a small kindergarten class size is necessary. When enrolling your child in kindergarten, please note that school placement may not be determined until late summer, at which time you will be notified by the building principals. Kindergarten class size in each building, siblings attending that elementary school and household addresses will be considered when placing kindergarten students. For general placement guidelines, the district attendance area map can be viewed here.
Per State of Nebraska statutes and District Board Policy, the following documentation is required for all student enrollments:
Proof of Residency (i.e., drivers license, utility bill, etc.)

Certified Birth Certificate

Immunization Records
Please note, all Kindergarten students are required to have a physical and vision evaluation prior to starting school. To be considered current, exams must be completed within 6 months of the student's first day of school. When applicable, religious or medical waivers are available within the registration packet.
We look forward to a successful educational relationship with you and your child. If you have questions, please feel free to contact one of us!
Byron Olsen
Director of Student Services
Angela Morris, Principal
Geil Elementary
Pam Barker, Principal
Lincoln Elementary
John Wiedeman, Principal
Northfield Elementary
"Gering Public Schools exists to equip today's learners with the skills necessary to be tomorrow's leaders."