COVID-19 Safe Schools Roadmap & Updates
We believe the emotional, mental, and physical safety of GPS students and staff is our top priority.
We believe in providing a high-quality educational experience to all students regardless of the circumstances.
We believe being in school is the best place for students to receive high-quality education, to engage socially with peers, and to benefit from a positive and consistent routine.
We believe that it's essential to continually share the "why" of our decisions for GPS staff, students, families, and community.
We believe our ability to keep schools open is a shared responsibility that depends on the cooperation from our entire Bulldog community.
We believe our schools are essential to the workforce and economic vitality of the region.
Gering Public Schools Safe Schools Roadmap 21-22
We believe that the very best place for children to learn is in-person. That belief informed and shaped every component of our Roadmap for the 21-22 school year. It remains our desire to create the safest environment possible for our students and our staff. We believe this plan supports the needs of our students and families while acknowledging the current risk to the health of children, and of those who serve and care for them.
This Roadmap was updated for the 2021-2022 school year, important and notable highlights include the following:
If positive cases within the school district elevate the risk to students and staff, graduated safety responses and layered prevention measures will be put in place. For example, mask requirements, event capacity, and visitation will become more restrictive if the risk elevates.

GPS will no longer offer an Extended Campus online learning option for students.

Visitors to buildings DURING THE SCHOOL DAY are required to wear masks.

Due to the inability to distance, we will restrict visitors/guests for school lunch.
If we learned anything last year, it is that our Roadmap is subject to change with new guidelines and information. However, the GPS team remains committed to safely educating our students in-person.
IMPORTANT DEFINITIONS:
SELF-MONITOR: For those that may have been exposed to a person with COVID-19. Self-monitoring means people should monitor themselves for fever by taking temperatures twice daily and remain alert for cough or difficulty breathing. If they develop symptoms (fever, shortness of breath, sudden loss of taste or smell, chills, muscle aches, headache, sore throat, nausea or vomiting, diarrhea or fatigue) they should SELF-ISOLATE.

ISOLATION: This separates people who are sick from those who are well. People who have tested positive for COVID-19 or who are a close contact and are experiencing symptoms should SELF-ISOLATE.

QUARANTINE: For those who had a close contact to a person with a confirmed case of COVID-19 but are not experiencing symptoms.
Gering Public Schools COVID-19 Dashboard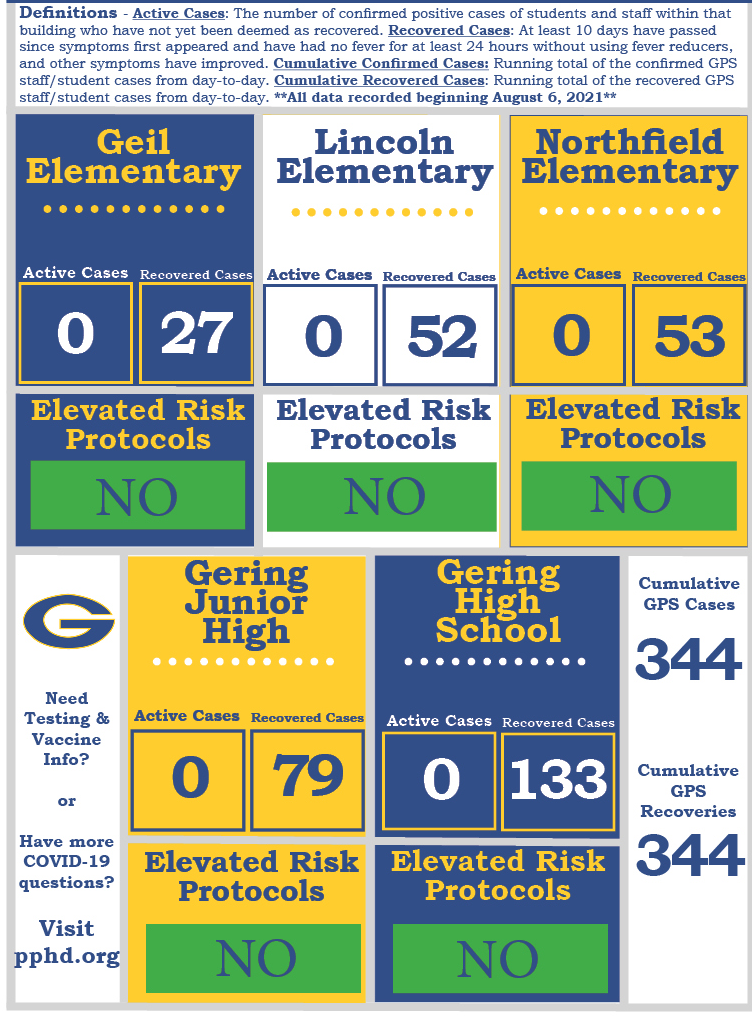 Helpful Links and Guidance
If you have a question you feel should be added to the FAQ section, please send it by CLICKING HERE.